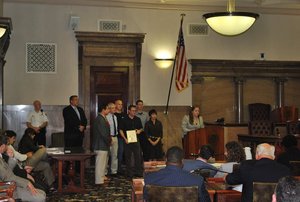 We were honored to receive this proclamation, which was read aloud in front of the full legislature before the session on Tuesday night began. Dan Quatro and Debbie Draw authored the proclamation recognizing GROC for our volunteer efforts and contributions to our parks.

This is a far cry from our last attendance at the legislature meeting where the simple idea of shared-use trails allowing mountain bike access was HOTLY contested and a very polarizing topic. This is really a huge accomplishment for all of the people who have advocated and participated to make this Pilot Program a reality. This is just AWESOME !!!

GROC President Jonathan Brown and Board members Mark and Mary Lee Rosenzweig, Adam Reitz and Russ Wait gladly accepted the honer for our members. Also there to support GROC were Dave Rinaldo and Mark Quinn from the Monroe County Parks department.
GROC would like to say a special thanks to legislators Dan Quatro and Debbie Draw for their recognition and support. We especialy want to thank Dave Rinaldo and Mark Quinn for all of their help in working with the volunteers and the great job they have done to renovate parking areas, trail access improvements and signage in Tryon Park and West Bay Park.
All in all an amazing few years and some much deserved recognition for all of you who have advocated and participated in the efforts to bring more shared-use trails to our area.
Remember to say thanks to the Monroe County Parks Department and your supporting legislators who helped us in these efforts.
Jonathan Brown
President